Today is the first time I'm participating in Sonya's Thankful Thursday over at
Truth for the Journey
.
I am thankful for SO much, but right now the following is what is specifically on my mind!
1. I am thankful that Kheaven's cirumcision went well today. I was so nervous about it and I am so grateful it is done and there were no complications.
2. I am thankful for my family doctor. I have been reading the book "
Gifts
" for the past couple of weeks, and their are so many families who find out about their child's diagnosis of down syndrome in a less than desirable manner. I am very lucky to have the doctor I do. He was very compassionate while telling me of Kheaven's DS markers, and he was very positive when the outcome came back that K does have DS. I feel so very blessed because of the way he has reacted to it all, especially reading about how a lot of others were treated when they found out.
3. I am sooo thankful that I have family coming to visit tomorrow! and yet more family coming in a little over a week. :-D
4. I am thankful for all the new friends I have been making... online, offline, everywhere! I am thankful there are people in the world I can relate to on all sorts of different levels. I am thankful I have the chance to meet and interact with these people. This week I am especially grateful for the friends I have made who are specifically my age and who are in similar places in their lives. :-D Yay!
5. I am always thankful for the life I have with my children. The other night while Kheaven was asleep I had the chance to wrap my arms around both Austin and Nayeli as we cuddled and watched the Santa Clause. I am thankful that my children are so cuddly and lovey, and I am thankful they have a long enough attention span to let me hold them for almost an hour. ;-) They're all so wonderful!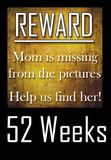 One more thing I'm thankful for...
It's really too bad that it's sooo apparent how much I'm lacking sleep.

Actually, it's how much I look like I'm lacking sleep.

Kheaven's only been waking up twice a night for the past few days!