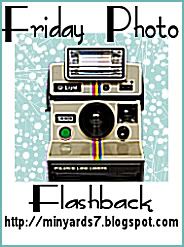 I love this day!

Back when I was 18, shortly after graduating hs, starting college, getting engaged, then dropping out of college I moved to Norfolk, VA. What can I say, I was a little... to say the least, crazy! I had wanted to live in VA since I was a freshman in hs and to me it was the bees knees that I had the chance to ACTUALLY do it! Not too much hesitation from me, I knew I would go back to college so off I went! Not too long after I was married, and a month after that I was pregnant with my oldest, Austin! My grandparents came out for a visit about a week after I found out I was pregnant... bringing the rest of my belongings that I had left behind when I went away from home.

So here I am, all of 19 years and two months old, in front of my very first apartment on Flowerfield Road. It was a five minute walk from the ocean, a ten minute walk from a wonderous botanical garden, and the perfect place for a dreamer like me to be. LOCATION I have to say, was probably the best of my "situations" at the time, but like I said, I was a dreamer. ;-)

I had what I needed and to me that was enough.

This was back when I thought Bob the Builder had all the answers...

"Can we fix it?!... YES WE CAN!"
(Hey, that sounds like Obama!.. lol, he must have watched Bob a few times himself. :-P)

The tiniest kitchen I've ever known. It was okay though, I lived off of burritos and cookies. SUCH a healthy diet for a pregnant young lady. :-P

The driving range was a wonderful place to let off steam and keep those arms looking tone.

And Virgnia Beach... just around the corner and over the bridge from where I lived... One of the most beautiful places I have ever been. It's not the place for everybody, but when sea shells and the ocean are a couple of your favorite things, oh it hits the spot. It also helps that I was a wannabe city girl from the very first time I recall seeing a skyline and forward.

Norfolk: Population 234, 440

VA Beach: Population 433, 746.

Gotta love those big numbers.

Forget the fact that I heard gunshots every so often from my apartment... I didn't care! Yes, I cared for the people who were being shot at, but I was at home in my heart.

Despite those large numbers and the excitment of the hustle and bustle freeway driving brought... my favorite places were those that were just mine. I treasured "magical" moments on walks from my apartment to the Little Creek Branch of the Norfolk Public Library, the quiet of secluded/abandoned beaches...

These were my favorite things in Virginia, places it was just me and God.

And lucky me, God IS wherever I am Virgnia or not!