This is week is just full of Blogger firsts! Today is a day I get to remember myself! Usually... Okay, almost always I am the one taking pictures, I can't say it's much different with pictures of myself, but once in a while I catch a break. I don't mind so much considering I am trying to make a business out of "Aymz Photography," but it's nice to sit back and remember some good times with the kiddos, and myself!
There are pictures of more mom's getting to remember when... over at the blog
Forever in Blue Jeans
. Check it out and submit some yourself if you wish!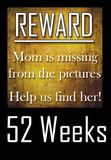 Since this is my first "Photo of Me" post I figured I get a pic with each of the munchkins in!
AND: Even though it is my 1 of 52 picture, I wanted to title it with the week, not the amount of weeks I've been doing it. ;-)
My first picture was taken back in 2006. Austin and I were headed off to the first birthday party he was ever invited to. His friend Michael was turning one and it was a
Pirate
themed b-day party! One of my bestest buds Danielle broke out her Nikon 10.2mp camera and snapped a few shots before we left. It was a beautiful day, and a great pic by Danielle, if I do say so myself. I love Austin's face, and that he's probably thinking, mom, WHY is this thing stuck on my ear?! (It didn't stay on for long.
This picture was taken earlier this year, just five days before Nayeli turned one! I can't believe how much her hair has grown since then... My gosh, I can't believe how much SHE's grown since then! Time goes so fast! While I make sure to have great focal contact with the camera, Nayeli is interested in other things. It's probably her zany brother or her goofy "Dah." ;-)
And THIS picture is probably one of the last of me with baby #3 in utero. He should be here any day and while pregnancy hasn't been the most wonderful experience (yet again) I am looking forward to this little bundles arrival!
Hope everyone has a blessed day!