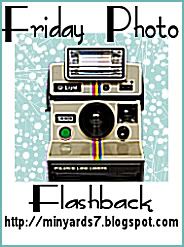 Alicia at
More than Words
is hosting Flashback Fridays, and what a fun thing for Fridays to be!
Looking back can remind us of how things were good or bad, and by knowing where we are now we can see that either we are blessed to be at a better place, or if we aren't at a better place we can be grateful for those past memories to help us through! We can then look to the future and know that things can be good again!

1984 2003

The first picture of the little girl in the graduation cap and heels is me, at a whole four years old! So eager to grow up, or maybe just to play dress up! :-) Being the daughter of the oldest of five children let me attend a few grad ceremonies... Probably about four, by the time I was four. No wonder I wanted to model after them! ;-)

The second picture, all grown up!.. Or so I thought. I was happy and proud to be graduating. High school wasn't the easiest time of my life, and by the time senior year came around I had to work to graduate. I did work, and thank the Lord, working worked for me! Pictured with me was my best friend from Junior High through High School, Emily.

I am reminded of how fast time goes by looking at these photos. I am reminded as well that no matter what was happening in life at any given point there was always time to stop and smile for the camera. ;-)

If you wanna join in the flashback fun please go to Alicia's blog on linkup with Mr. Linky so we can all enoy reveling in eachother's memories!